Features
Powerful Functionalities
Use TSYS CounterPASSSM to process credit and debit cards, voids, returns and recurring payments.

Easy & Convenient
The user-friendly interface makes navigation quick and simple, allowing you to monitor your revenue in real time, run and download reports or void transactions anywhere, anytime.

Secure
Your business – and your clients – will be protected from fraud with real-time processing, data protections and verification code support. Credit card data is transmitted with the highest levels of encryption and security protocols, and compliance updates are seamlessly integrated into the application, with no action required by you.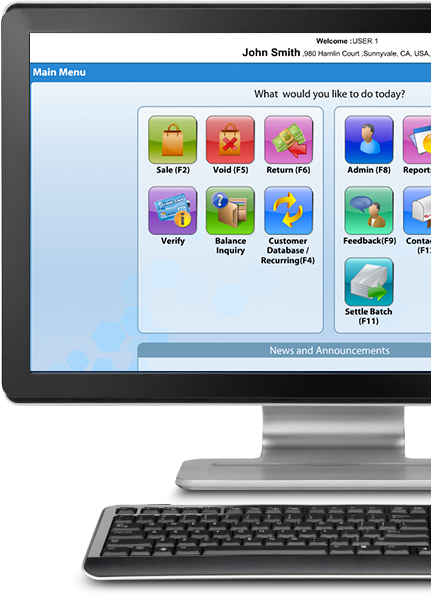 TSYS CounterPASSSM
Accept credit cards via swipe
Accept credit cards by manually entering
Transactions
Void recent transactions on your device
Email receipt to customer
Application
Simple, modern and professional design
Intuitive transaction process
Compatible Devices
Printers
USB Citizen CT-S2000 Receipt

VeriFone P900 (P002-121-00)

Star Micronics 39448610 TSP654U (37999520)

Star Micronics 37999590 TSP651U-24 Putty

Star Micronics 37999600 TSP651U-24 GRY

Serial Port VeriFone P250 Receipt (P002-113-00.02)

Star Micronics 39448510 TSP654D-24 Putty
Card Readers
USB MagTek Mini Card Reader (21040109 or 21040110)

MagTek Mini Card Reader Dual Head (21040140 or 21040146)

MagTek Mini MSR (21073075)

MagTek Card Reader (21040102 or 21040101)
Pin Pads
USBHypercom P1320

VeriFone 1000SE (003-190-02-WWE)

Serial Port Hypercom S9SC with built-in Card Reader

VeriFone SC-5000 with built-in Card Reader (M108-43K-30-US1)
System Requirements
Recommended Requirements
Operating System
Processor
RAM
Hard Disk Space
Display
Peripheral Connections



Required Software



Internet Connection
Connection Speed (BPS)
Firewall Settings
Windows 7 32-bit (Home or Professional)
2 GHz Pentium/AMD processor or dual core (or better)
1 GB (or more)
10 GB (or more)
1024 x 768 pixels; High color (32-bit)
CD or DVD drive
3 USB Port for Peripherals
2 RS232 Serial Ports (9 PIN)
Depends on peripherals selected
Microsoft® Internet Explorer® 8
Mozilla® Firefox® 3.6.18
Glu-on K3®
Adobe® Flash® Player version 8.5.0 or higher (to access reports)
High Speed (Cable, DSL, T1, T3, Wireless data card)
256 Kbps
Port 443
Allow the sites below:
https://counterpass.transit-pass.com/*
https://merchantcenter.transit-pass.com/
https://idm.transit-pass.com/*
https://idea.transit-pass.com/*
Frequently Asked Questions